"The Emblem" LGBTQ Certification Project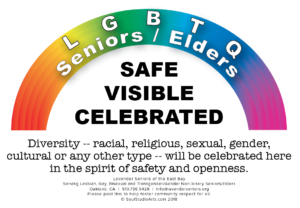 Lavender Seniors maintains a list of preferred service providers who are certified as LGBTQ welcoming under our Emblem project. We do this because we receive many requests from our members and the community for senior service providers that are LGBTQ specific or LGBTQ allies. Certified organizations receive a "Safe, Visible and Celebrated" rainbow placard to display in their place of business. Displaying the Emblem helps create a visibly welcoming space for the LGBTQ community.
If you would like to become part of Lavender Seniors preferred provider network, please contact us. You can complete the certification document and provide proof of satisfying the criteria below. Send by emailing info@lavenderseniors.org or mailing to 4123 Broadway, Suite 818, Oakland, CA 94611. After review and approval, we will send you the Emblem placard.