Information for Service Providers and Advocates
What service provider, advocates and the population at large need to know.
"Eat Well Age Well" Nutrition Training for LGBTQ Seniors

LGBTQ Seniors are largely invisible
Often lack social and family support networks available to non-LGBTQ seniors therefore they are more likely to live alone with inadequate care giving or planning for long term needs.
Experience homophobia and anti-gay bias that prevents them from receiving services or a quality level of care
Discriminated in housing and nursing homes which has been reported across America
Experience ageism by the LGBTQ community itself
In-addition little is know due to lack of research on sexual orientation and gender identity.
There is a sever paucity of programs and services that specifically serve LGBTs.
Studies have shown that lifelong experiences of marginalization place LGBTQ seniors at high risk for isolation, poverty, homelessness, and premature institutionalization.
Many LGBTQ seniors avoid accessing elder programs and services, even when their health and safety and security depend on it.
The number of people 65 years of age and older in California is expected to double to 6.5 million by the year 2020, thereby increasing the number of LBGT seniors who are receiving inadequate services.
Federal Laws discriminate against same sex couples marginalize LGBTQ elders.
LGBTQ seniors don't have over 1,000 rights which are granted to those who have been married.
Elders in same sex relationships may not be eligible for lower income spousal or survivor benefits while most Americans rely on SS as their primary source of income.
Can't file federal joint tax returns – property transfers between partners are not recognized nor the use of the martial tax deduction for property that goes to the surviving partner when another partner dies.
Medicaid and Medicare benefits do not protect LGBTQ people.
Issues for LGBTQ Seniors in the Bay Area correlate to the limited national data that exists.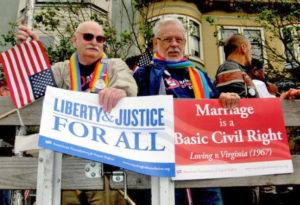 A 2008 Lavender Senior member survey ranked isolation as the number one concern about aging as an LGBTQ senior, followed closely by access to culturally sensitive health and human services and financial hardship. Studies around the country and locally also note a primary issue among the LGBTQ senior population is isolation and access to services. In 2001 and 2002 openhouse, in partnership with San Francisco State University and Horizons Foundation, surveyed 1,300 lesbian, gay, bisexual, transgender, and queer (LGBTQ) respondents in the San Francisco Bay Area – over 700 of whom were age 50 or older. The results noted that LGBTQ seniors are much more likely to live alone and cannot identify someone as a caretaker due being less likely to have spousal support; they are less likely to access quality care; more likely to be isolated and vulnerable to poverty, LGBTQ seniors without children lack a major resource as they age; health problems reported by local lesbians and gay men appeared at rates usually seen in people a decade older.
The most recent Alameda County Adult & Aging Services Area Agency on Aging 2009-2012 Area Plan identifies LGBTQ seniors as being among the greatest risk. Commonalities between LGBTQ seniors and other "most at-risk seniors" include the isolated, those in hospital to in-home transitions, the homebound and those isolated by culture and linguistics.
Research
Improving the Lives of LGBTQ Seniors, Report by SAGE March 2010
More information can be found at the American Society on Aging LGBTQ Aging Resource Clearinghouse
California Laws
AB2920 – States that programs and services administered under the Older Americans Act must account for the needs of LGBTQ seniors.
SB1729 –States that residential care facilities providing 24-hour care must by trained to serve LGBTQ seniors.
Cultural Competency Training
Having an LGBTQ culturally competent health and human service organization increases the quality of service for LGBTQ seniors. LGBTQ competent providers are less likely to have gaps in service for LGBTs because they do not make hetero normative assumptions about the clients they serve. They understand the issues LGBTQ people and seniors face, accept the fact that best practices for serving LGBTs must be in place and therefore have a better ability to reach and communicate with this population.
The following are materials from Lavender Seniors Cultural Competency training. Please contact Lavender Seniors if you need technical assistance implementing these best practices.
Practical Suggestions for Working with LGBTQ Elders
Lavender Seniors would like to thank and acknowledge Nancy Flaxman MSW, Spectrum of Marin, New Leaf Services for Our Community, openhouse, the National Center for Lesbian Rights and the Rainbow Community Center of Contra Costa for their input in the development of our training materials.